Recently, after two months of screening, online voting and expert review, the top 10 awards of "Honor 2017· Sina medicine annual list" are announced. AIER "healthy vision, all on fundus" is the "excellent public welfare project of China pharmaceutical enterprise of 2017".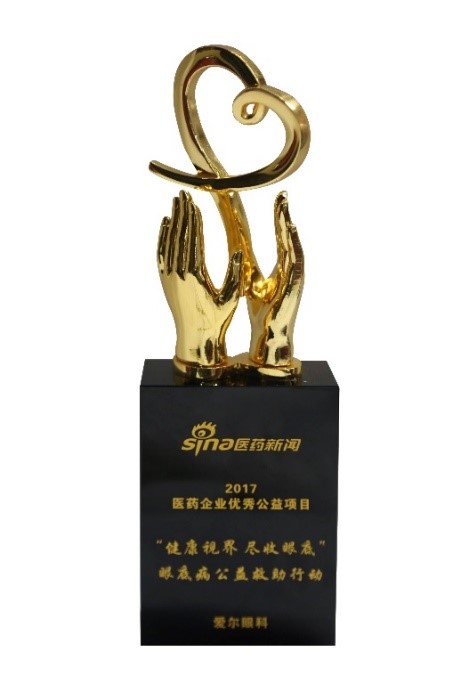 AIER won the award of excellent public welfare project of sina medical news
It is reported that "healthy horizon, all in fundus" public welfare program mainly targets impoverished patients with diabetic retinopathy, age-related macular degeneration, or high myopia caused fundus diseases, provide them with professional ophthalmic medical treatment. The project plans to invest 1 million yuan in its first phase and 10 million yuan in five years to help struggling patients. The project has been widely reported in the national mainstream media and has attracted widespread attention.
The launching ceremony of "healthy horizon, all in fundus" public welfare program
As the world's biggest eye hospital group, and the only ophthalmic medical chain that has two listed companies in both China and Europe, AIER has established more than 200 professional eye hospitals in 30 provinces in mainland China, as well as nearly 90 eye hospitals and clinics in Hong Kong, China, the United States, and Europe. AIER's service has reached three continents, covering more than 2 billion people. AIER is not only dedicated to providing more professional and convenient eye health service for more patients, but also takes more social responsibility, participate in public welfare and actively feedback to the society.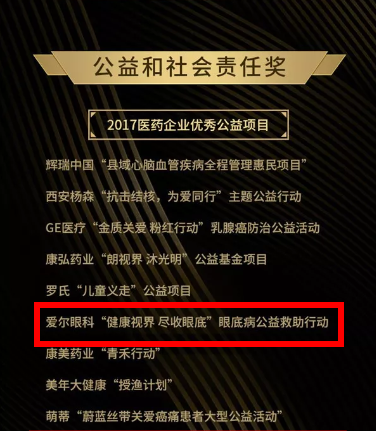 AIER is the only eye care institution listed for the public welfare and social responsibility award
Bang Chen, chairman of AIR Eye Hospital Group, said: "public service is an important step to accomplish the mission of 'Enabling everyone, whether rich or poor, has the right to eye health'. AIER will take full advantage of globalization, specialization and large-scale network of itself, continue to promote the overall level of Chinese ophthalmology, promote eye care services and eye health knowledge popularization!"