From March 28th to 31st, Retina China 2018, the annual academic conference for fundus diseases in China, was held in Qingdao. The meeting focused on the hot topics and difficulties of clinical research on fundus diseases, and comprehensively examined the status of basic and clinical researches and recent progresses on diagnosis and treatment. As the largest academic conference for fundus diseases in China, it attracted more than 3000 ophthalmologists from home and abroad.
More than 200 ophthalmologists from AIER Eye Hospital Group attended the conference. More than one hundred experts were invited to participate in various topics such as macular diseases, stem cells and gene therapy, and clinical application of AI in ophthalmology, vitreoretinal surgery, etc.
The speeches delivered by AIER's ophthalmologists received enthusiastic approval of fellow ophthalmologists. Besides contributing to the diagnosis and treatment technology, and clinical experience etc., AIER also showed the world its overall strength in ophthalmology.
Yi Wang: Clinical and Imaging Features and Invasive Anatomy of PAMM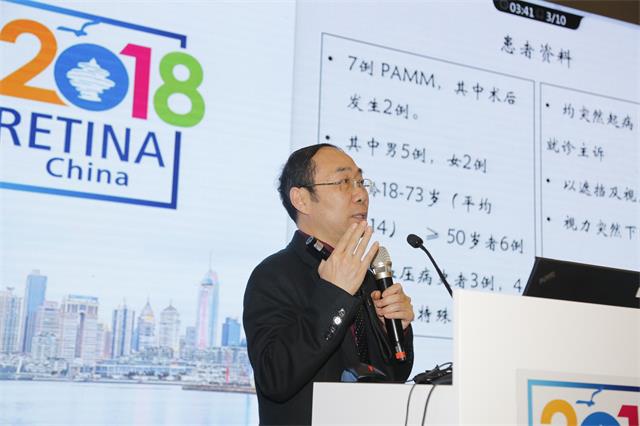 PAMM is paracentral acute middle maculopathy and its etiology is still not clear. Its pathogenesis may be related to the ischemia of the deep retinal capillary. Professor Yi Wang, vice president of Chongqing district, Master supervisor of the AIER school of ophthalmology, Central South University, Chairman of Chongqing doctor association ophthalmologist branch said that, PAMM is mainly found in middle-aged and old male patients with acute onset, decreased visual acuity, normal or gray fundus changes, and visual field changes, near infrared fundus photography can clearly show dark gray area with clear boundaries, abnormal high IOL reflection in SD-OCT (spectral domain optical coherence tomography) can help with the diagnosis.
Professor Yi Wang shared two cases of postoperative PAMM at the conference. Although the cause was not clear, he thought it might be related to surgical trauma or intraocular pressure fluctuations. He reminded that for those who have "unexpected" vision loss and blind spots after surgery, they should be highly vigilant and be alert to the possibility of deep retinal capillary ischemia in the macular area.
Wensheng Li: Current status of clinical trials and challenges of genetic therapy for inherited retinal diseases
Inherited retinal disease is recognized as sight threatening fundus disease which is very difficult to treat. Professor Wensheng Li, an expert of cataract and fundus diseases in China, Ph.D. supervisor of AIER School of Ophthalmology, Central South University, deputy director of AIER Eye Hospital of Shanghai, detailed the development of gene therapy and its application in hereditary retinal diseases.
He believes that gene therapy is safe, effective and very promising. At the same time, gene therapy is currently facing clinical problems and challenges such as retinal remodeling and surgical injury. In 2017, the United States Food and Drug Administration (FDA) has approved the first gene therapy for inherited blindness. It is believed that in the near future, more patients with hereditary retinal diseases will regain their vision through gene therapy.
Shibo Tang: Individualized treatment of retinal detachment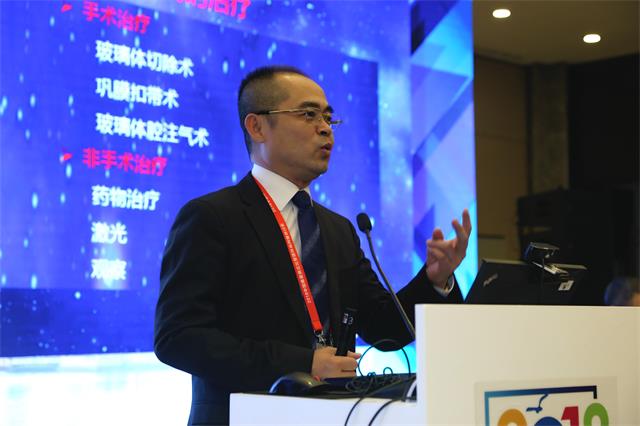 Pro. Shibo Tang, General Director of AIER Eye Hospital Group, Dean of AIER school of ophthalmology, CSU, pointed out that retinopathy is a group of severe blinding eye diseases. Due to complex pathogenesis and diverse lesions, the treatment effects are often not ideal. There is also no unified treatment method. Quite often, different treatments are needed according to different lesions. Based on the principle of "minimizing trauma and minimal risk, striving for the best results", Professor Shibo Tang focused on complex cases such as congenital retinopathy, adolescent retinal detachment, multiple surgeries and patients with "high risk, high pressure", which provided references for new treatment exploration and accumulation of clinical experience.
Shaomin Peng: 27+ Minimally invasive vitrectomy assisted posterior chamber intraocular lens tunnel fixation.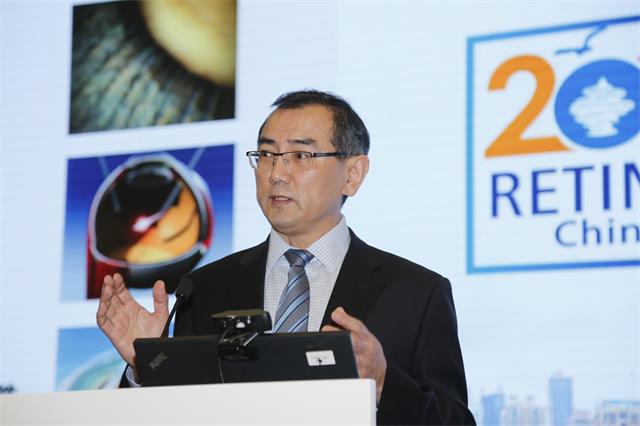 Prof.Shaomin Peng, the dean of the Heilongjiang province of AIER eye hospital group, Ph.D. supervisor of AIER school of ophthalmology, CSU, and the director of AIER Eye hospital of Harbin, said that:"27+ Minimally invasive vitrectomy assisted posterior chamber intraocular lens tunnel fixation is currently one of the best surgical methods for the treatment of amorphic capsule and aphakic eyes. The simple and minimally invasive surgical procedure is a good method for the stability and safety of postoperative intraocular lenses".