On April 24th, AIER signed a strategic cooperation agreement with Huawei and Talkweb in Shenzhen. The three parties will play their respective advantages in cloud computing, big data and enterprises digital transformation, and jointly build an ophthalmic medical industry ecosystem, and open the new ear of patient visiting data interconnection across hospitals.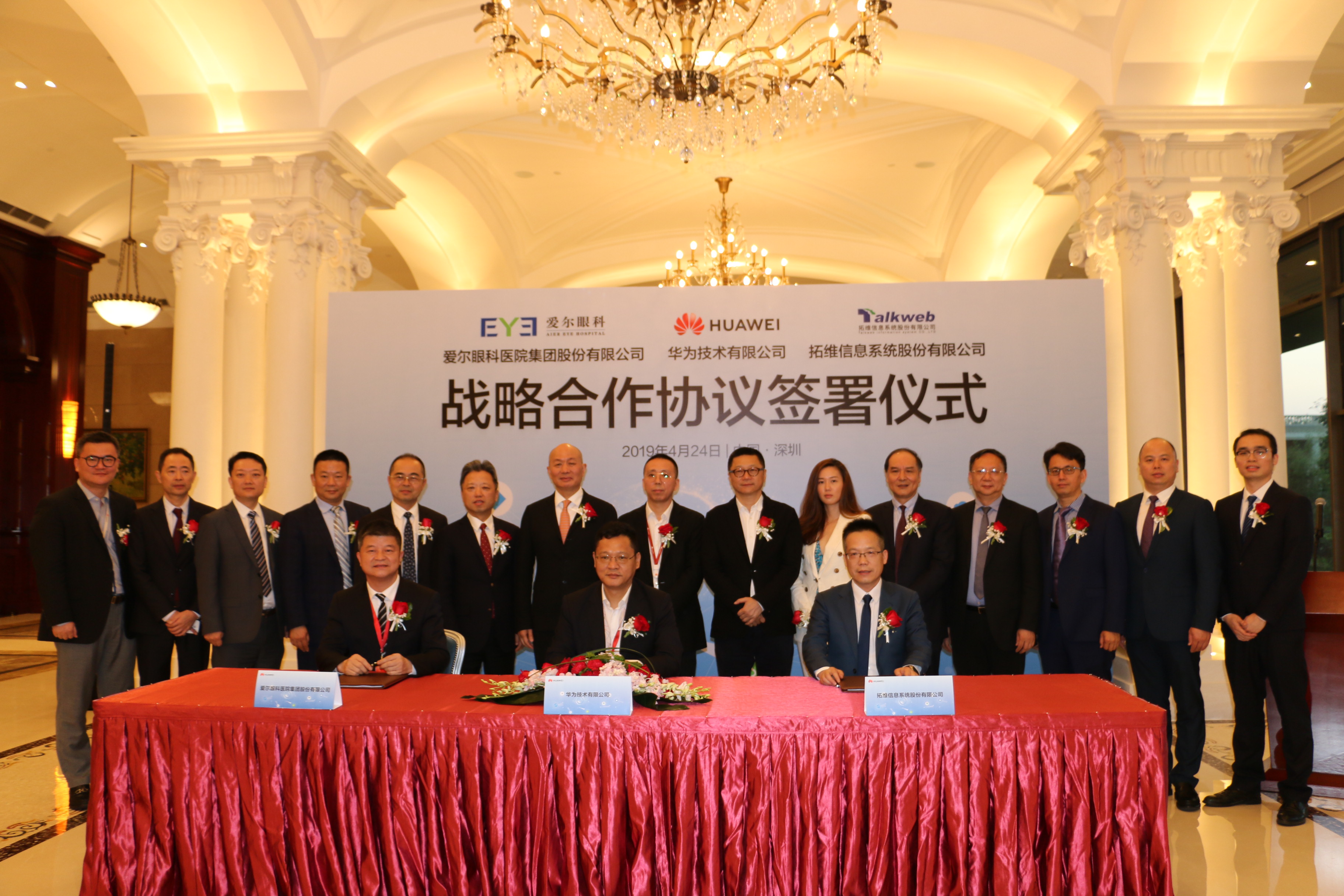 Mr. Chen Bang, Chairman of AIER, Mr. Li Li, Vice Chairman and President of AIER and business leaders attend the signing ceremony of the strategic cooperation agreement
According to the strategic cooperation agreement signed by the three parties, Huawei, as the world's leading provider of information & communication solutions, will utilize their advantage to offer AIER the leading solution to information technology structure management, consulting planning, smart hospital, 5G, medical IoT, data centers, public cloud, etc. Talkweb will provide AIER with information planning and project field support of public cloud, medical industry cloud, medical big data, medical IoT.
Based on the cooperation of the three parties, it is believed that the patients' information and medical records of nearly 400 AIER medical institutions will be integrated into the eye health cloud platform to realize the global interconnection of patients' eye health information and one-click access, and improve the efficiency of outpatient visit. At the same time, this cooperation also brings patients and their families with higher quality operation live broadcast, VR experience of refractive surgery, and remote consultation and remote surgery guidance of well-known ophthalmologists at home and abroad.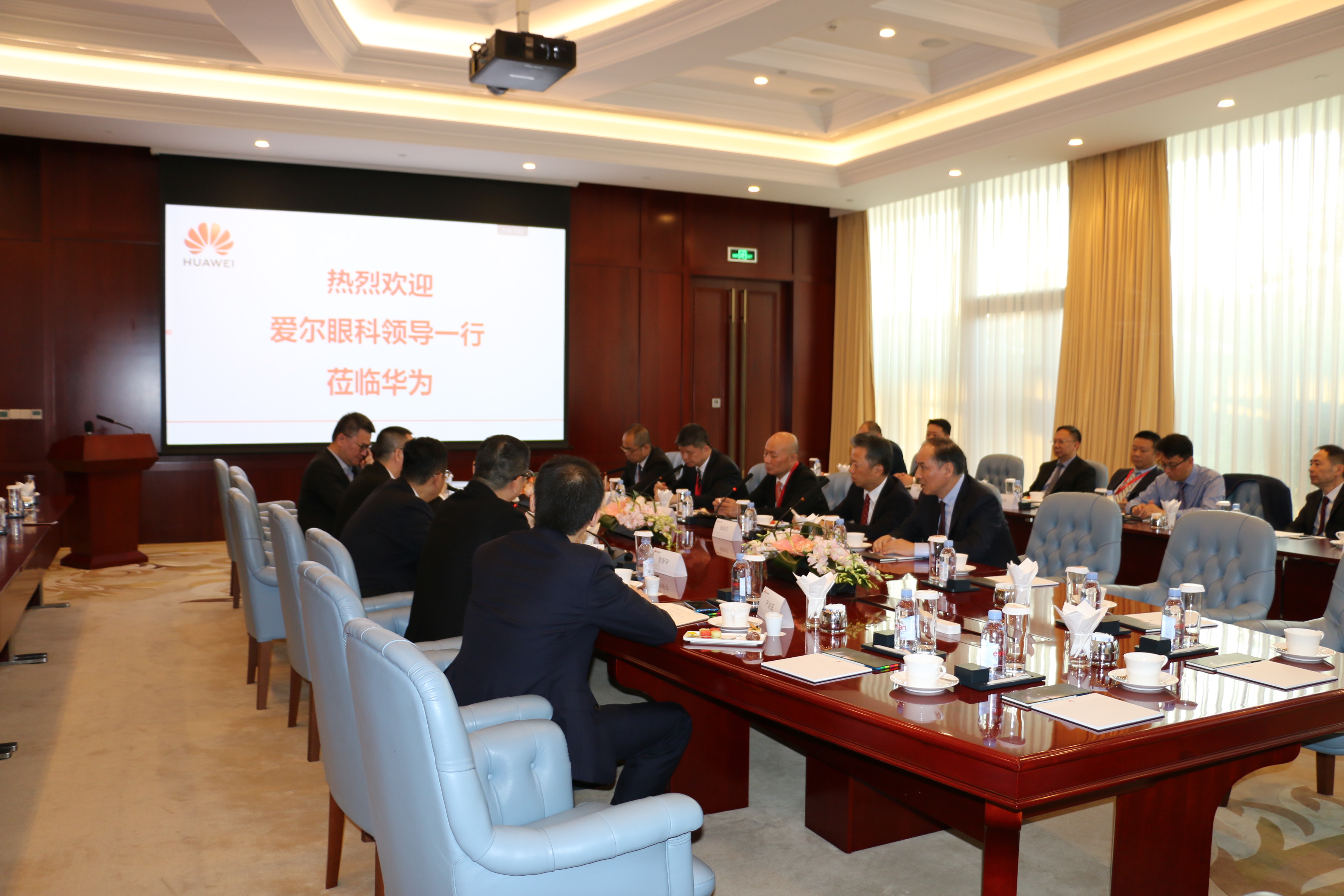 Mr. Chen Bang, Chairman of AIER, Mr. Li Li, Vice Chairman and President of AIER, Mr. Wang Gang, Huawei Chief Specialist of Medical industry and Mr. Li Xinyu, Chairman of Talkweb talk about details of strategic cooperation agreement
One-click access to medical information to solve the dilemma of "Another hospital, repeated inspections"
At present, the current situation is that the medical records and examination results between hospitals have not been interconnected and recognized. Patients are always asked to do repeated inspections when they visit another hospital with the same symptom. This situation was dubbed by patients as "Another hospital, repeated inspections". The repeated inspections not only waste precious medical resources, but also affects the efficiency of patients' treatment and increases unnecessary expenses. "Another hospital, repeated inspections" has become the biggest pain point of the patients' cross-hospital treatment experience.
AIER comprehensive cloudization and other strategic goals will be based on the Group's "hierarchical chain model", which will truly realize the patient's experience in the AIER system without barriers. The interconnection of patient visit data and information sharing will also "one-click release" the "Another hospital, repeated inspections" phenomenon, saving medical resources, patient visit time and medical expenses.
Mr. Tang Fan, director of the AIER Information Center, said that the Group is actively promoting comprehensive cloudization, big data centers, clinical informationization, and Internet hospitals in accordance with the strategic goals of the three-year plan for information work. We are committed to gradually integrating the business systems deployed by AIER local hospitals into the cloud, and gradually gathering scattered patient information, medical treatment information, and inspection information into the Group's eye health data center. Constantly exploring in the field of ophthalmic clinical informationization would better support AIER clinical diagnosis and treatment services and development of science and education. "The cooperation with Huawei and Talkweb will definitely help AIER achieve strategic goals of earlier and better!"
Multi-scene application with 5G to achieve ophthalmology "Cloud Diagnosis"
Based on the in-depth application and development of the cloud platform, AIER will fully apply 5G in the field of ophthalmology to realize remote consultation, remote surgery, emergency rescue guidance, etc. Patients can also use portable 5G medical terminals and cloud medical servers to communicate with medical expert on line, enjoying medical services across the time & space and the region, and thus realize the "cloud diagnosis and treatment". Mr. Wang Gang, Huawei Chief Specialist of Medical industry, said, "The integration of 5G with medical IoT and Internet hospitals can be applied in many scenarios. This cross-border cooperation will greatly improve the efficiency of patient treatment and patients' experience."
By 2019, AIER has just been listing for the 10th anniversary. In the past ten years, AIER has established a "hierarchical chain" management model, opened up a talent training model- school-enterprise joint academy, established a talent management model of the medical industry -"Partnership program", and acquired globally renowned ophthalmic medical institutions. With continuous innovation and exploration, AIER has become the world's leading ophthalmic medical group covering Asia, the United States and Europe.
Mr. Chen Bang, Chairman of AIER, spoke at the exchange meeting of the tripartite strategic cooperation agreement
Mr. Chen Bang, Chairman of AIER, stressed that "In the next decade, we will focus on building the AIER Eye Health Industry Group and improve the eye health lifecycle management system, making AIER system the eye health steward of every AIER patient. These plans coincide with the strategic goal of comprehensive cloudization. We will also realize the interconnection of patient information through the construction of AIER Cloud, and provide an innovative model of the information technology development for ophthalmic industry and hospitals. Promote the early arrival of the nationwide hospital information exchange and interoperability era, provide our patients with efficient, high-quality service, thus truly realizing that 'Enable everyone whether rich or poor, has the right to eye health. "