From July 25th to 28th, the International Forum on Innovation and Development of Vision Health (Vision China 2019) was held at the International Conference Center of Qingdao. The conference continues to adhere to the style of "classic inheritance and cross-border innovation, seamless integration of production, education and research, and equal emphasis on internationalization and localization". It breaks through the boundaries of industry, field and discipline, and stimulates brainstorming in the form of a combination of classics and novelties. Leaders in Ophthalmology, Optometry and Visual Science from China, the United States, Canada, Britain and other countries & regions, as well as executives in Optometry industry at home and abroad gathered together to discuss new clinical technologies closely related to visual health, research new trends, new trends in industrial development, and new ideas for talent development.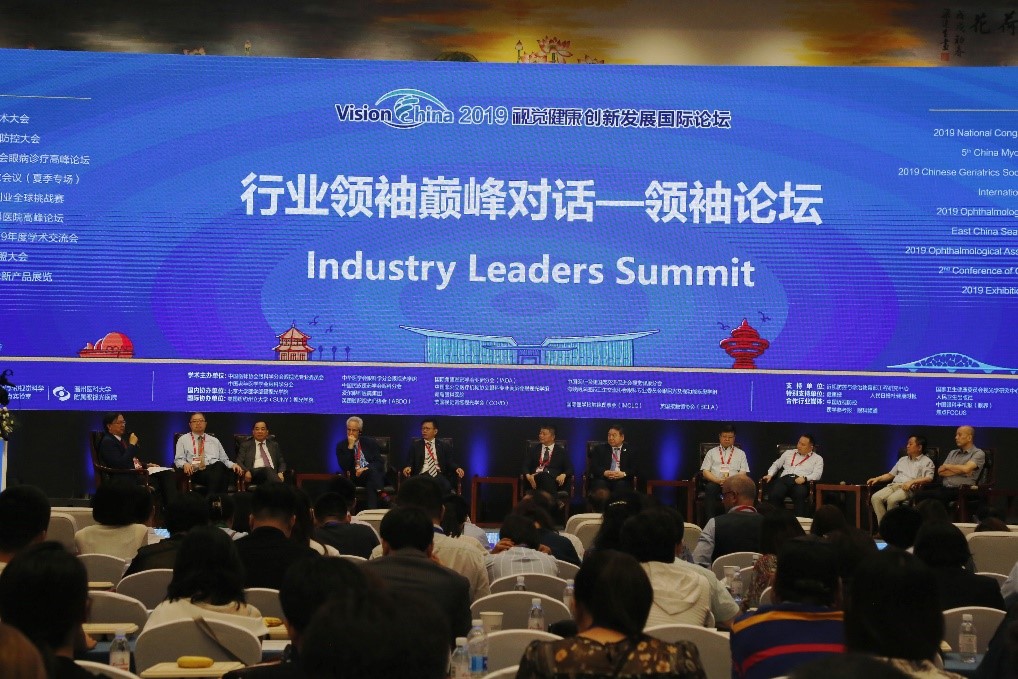 The Industry Leaders Summit holds in Qingdao International Conference Center on June 27th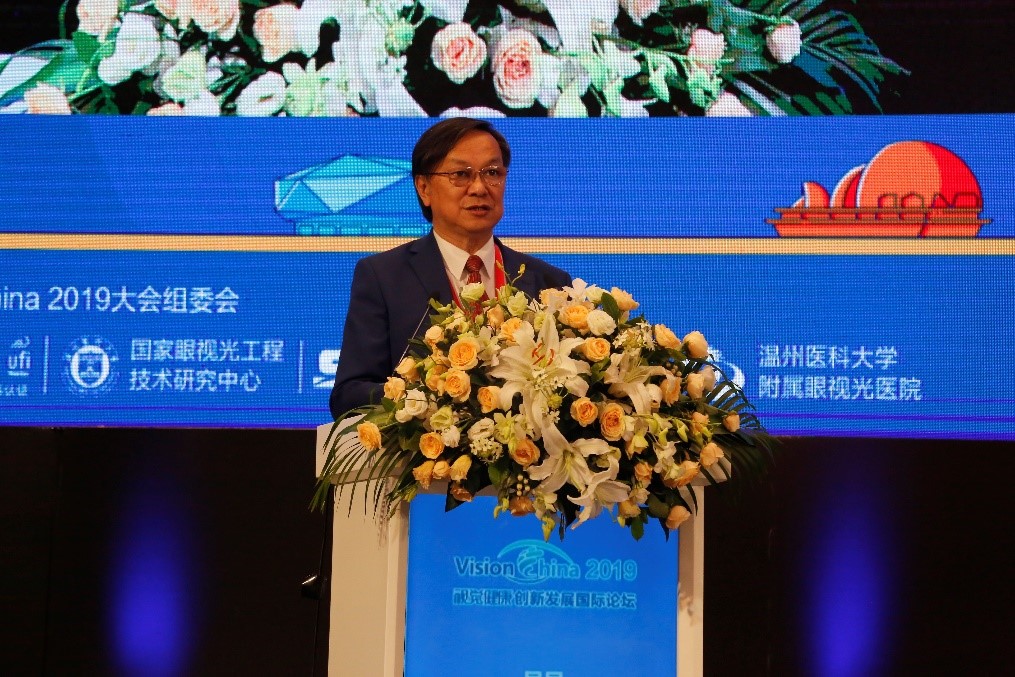 Prof. Jia Qu, the Deputy Chairman of Chinese Ophthalmological Society and Deputy to the National People's Congress, preside over the Industry Leaders Summit
A series of academic events, such as "National optometry academic conference 2019", "The 2nd National Ophthalmology & Optometry Alliance ", "The First International CXL Expert Meeting for Summer" and "The 5th China Myopia Research Conference" were held at the same time. Prof. Zhikuan Yang and other ophthalmic experts from AIER Group were invited to deliver their wonderful academic speeches. Besides, Mr. Li Li, the President of AIER Eye Hospital Group, also presented a theme sharing entitled "Global Vision for Your Vision: Innovation-Integrated Development Mode of AIER" at the special invitation of the organizers, which attracted the enthusiastic attention of the participants.
Seize opportunities of the new era to construct an eye health ecosystem
In recent years, through the acquisition of WANG Vision Institute in the United States, Clínica Baviera Group in Europe and other world-renowned eye institutions, AIER has built a global eye care service platform crossing Asia, the United States and Europe, reaching a population of more than 2 billion.
In addition, AIER kept constructing the ecotypic technology of Ophthalmology and Optometry, investing Ophthalmology and innovation projects that are at the frontier of the field via Global Technology Innovation Fund, and cooperating deeply with top medical institutes in the world to complete AIER's reserve and layout in the ophthalmology related industry chain.

It is worth mentioning that the construction of AIER's strategy of eye health ecosystem is gradually improving. Mr. Li Li introduced that AIER's current ecological circle is divided into several parts: Chain Hospital Network Ecology (including provincial,regional, and primary hospital systems), Eye-health Internet Ecology, International Ecology, Science and Technology Innovation Ecology, and Medical Finance Ecology.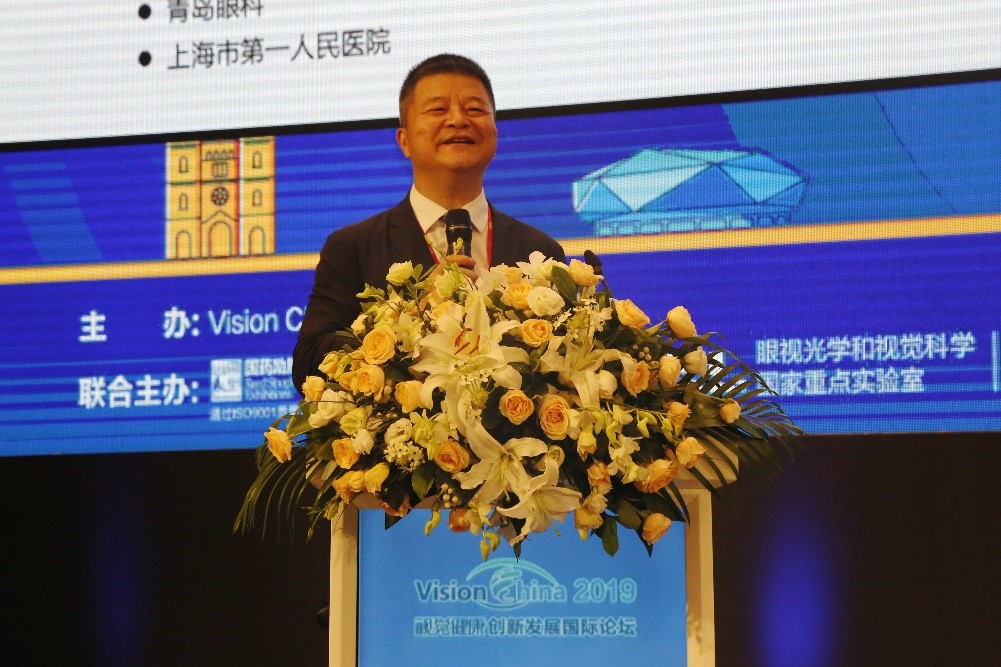 Mr. Li Li, the President of AIER Eye Hospital Group, delivers his speech.

Mr. Li Li said: "Internationalization is a key part of constructing an ecosphere strategy. Thus AIER utilized the network layout, which covers Asia, America, and Europe to deepen communication and cooperation at home and abroad, accelerate the global integration of clinical, scientific research and human resources and construct world-class Eye Care platform so as to improve AIER's core competitiveness and international influence. In recent 5 years, AIER has been utilizing global resources to support China the introduction of excellent talents and advanced technologies. And in the next 5 years, AIER will share more global visions to the world."
AIER initiate model innovation in multi-field to benefit patients at home and abroad
Mr. Li Li (Middle), introduced AIER's innovative development mode to participants in this summit
It is reported that, AIER has been sticking to the internationalization strategy and committing to building a global ecological chain for technology innovation for years. AIER successively developed the 'cloud clip' (world's first smart wearable equipment for myopia prevention & control), ophthalmic AI diagnosis system and other high-tech achievements.
Relying on more than 400 hospitals that covers Asia, the United States, and Europe, over 20 million strong clinical case library, as well as education and research integration platform-"Two School, Six Institutes, Two Stations" (Two School: AIER school of Ophthalmology · CSU, AIER Eye School of Optometry · Hubei Institute of Science and Technology; Six Institutes: AIER Eye Institute, AIER Institute of Optometry & Visual Science, AIER Institute for Corneal Disease, AIER Retina Research Institute, AIER Glaucoma Institute, AIER dioptric Research Institute; Two Stations: Academician Expert Workstation, Cooperative R & D Center of Postdoctoral Program), AIER continues exploring and working hard to create new modes in different fields:

AIER created a new mode of Chinese ophthalmology classification chain through creating the layout of the national central city and provincial, primary-level hospitals, outpatient departments, Eye Health E-station in communities;
Joined by AIER school of Ophthalmology · CSU, AIER launched a series of talent training projects such as "Photon Program", "Bocai Program" and "Youcai Program", which created professional and high-level personnel training mode for Chinese Ophthalmology;
With the Launch of "partnership plan", AIER initiated the partnership mode in Chinese medical industry and ensured long-term incentives for employees;

Combining with China's actual conditions, AIER creatively carried out cross-subsidy policy, subsidize low-income patients with high-margin business every year, which achieved the sustainable development of public welfare.
As the first Chinese Ophthalmic medical institution to realize overseas acquisition, AIER successively merged WANG Vision Institute in America and Clínica Baviera Group in Europe, forging an international platform for the development of Chinese Ophthalmology.
"We believe innovation is always the best way to help patients to get rid of eye diseases and improve their life quality. Therefore, we have always emphasized innovation, providing the latest ideas, products and services to patients to improve their eye health. Innovation is not only a concept, but also a kind of passion for us. When breakthrough progress is made in eye disease treatment, the problems of thousands of patients with complicated eye diseases will be solved, and the quality of their life will be greatly improved." Mr. Li Li said.
The progress of exploring will never stop. In AIER's eye health ecosystem, all the innovation and construction were under the core of building high-level ophthalmic capacity and pushing the advancement of human ophthalmic technology. AIER aimed to become the world's leading ophthalmology institute, and will gradually realize its mission of enabling everyone, whether rich or poor, has the right to eye health.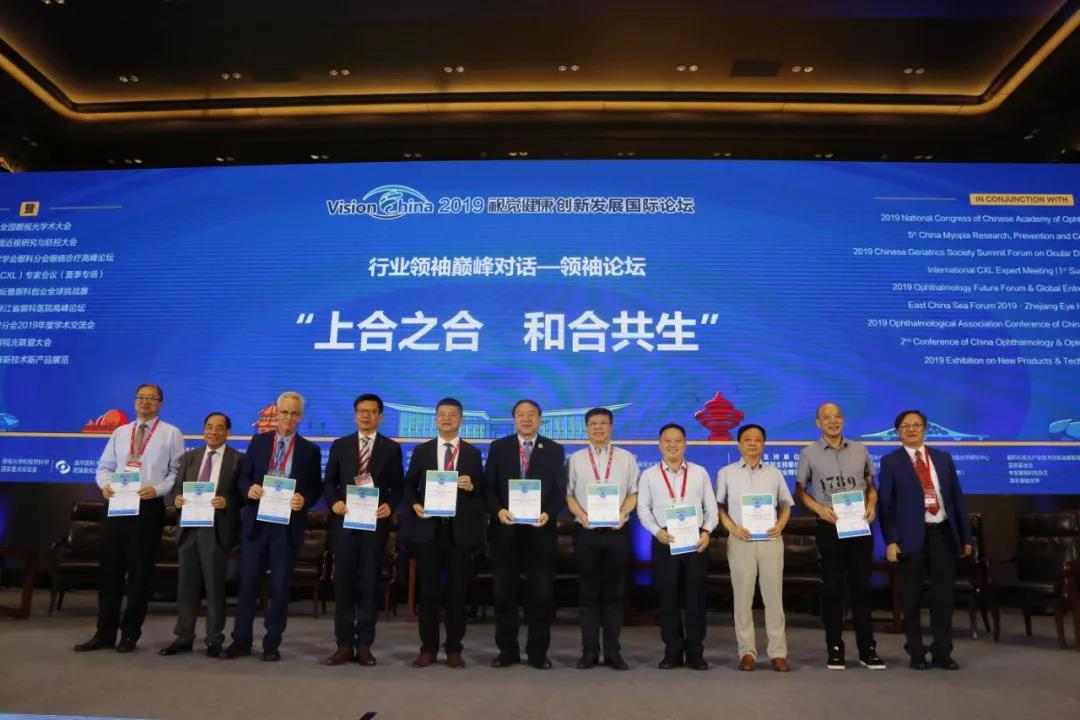 Prof. Jia Qu presents awards to the representatives of industry leaders