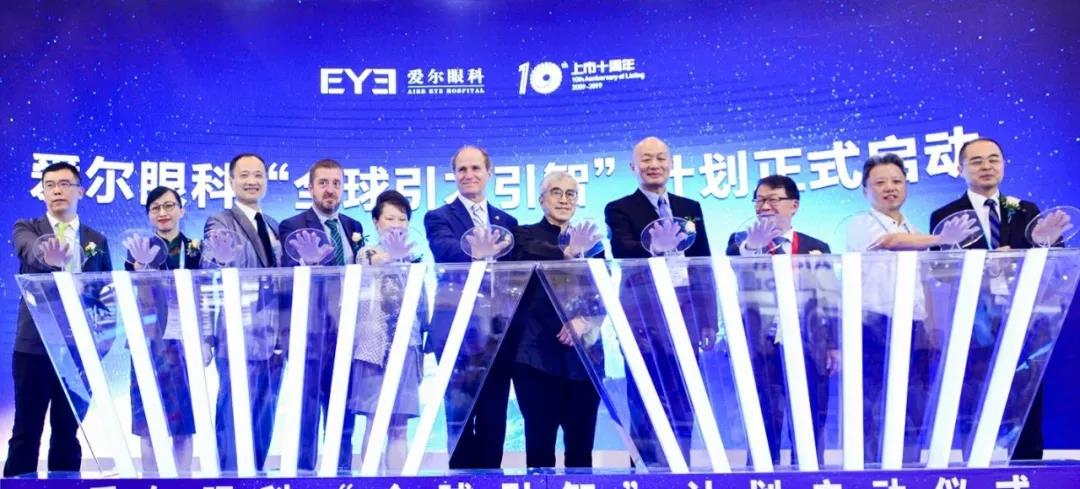 "In the next ten years, AIER Eye Hospital Group will build a world-class ophthalmology center, a world-class ophthalmology university, establish 8 national and regional ophthalmic centers, and open 1,000 leading regional eye hospitals. Talents are the foundation. AIER will launch a series of Talent Plans to introduce and train a group of international leaders, industry leaders, and young elites who are advanced in both ophthalmology and management to help realize the AIER dream of the next 10 years and even a century!"
On September 5, during the 24th National Ophthalmology Congress of the Chinese Medical Association, on the occasion of the 10th anniversary of the listing, AIER announced the development plan of the talent strategy for the next ten years, and officially announced the launch of the Global Introduction Plan for Talents, including 7 talent introduction and training initiatives such as "Ophthalmology Masters", "Leading Talents" and "Famous specialist", creating a group of industry-leading talents, contributing AIER's strength to the eye health industry in China and the world.

Mr. Chen Bang, the Chairman of AIER Eye Hospital Group, said: "If AIER wants to be bigger and stronger and achieve the goal of century-old enterprise, talent development is the key."

In the next ten years, the Global Introduction Plan for Talents will introduce more than 10 ophthalmology masters and more than 100 advanced ophthalmology leaders in the country and industry through a total of seven talent programs in three categories, and gradually bring in and cultivate more than 1000 famous doctors that are leaders in the region, as well as a large number of hospital management, medical technology, and nursing personnel.
Medical: "Ophthalmology Master", "Leading Talents", "Introduction Plan for Ophthalmology Doctors", "Support Plan for Ophthalmology Talents"

Medical technology: "Escort Plan"

Management: "Leading plan", "Elite Plan"
Mrs.Wang Lihua, the Vice President of AIER Eye Hospital Group and Director of the Human Resources Center, said: "The 'Ophthalmology Master', 'Leading Talent', 'Ophthalmology Famous Doctor' program is dedicated to introducing and nurturing international leaders and industry leaders".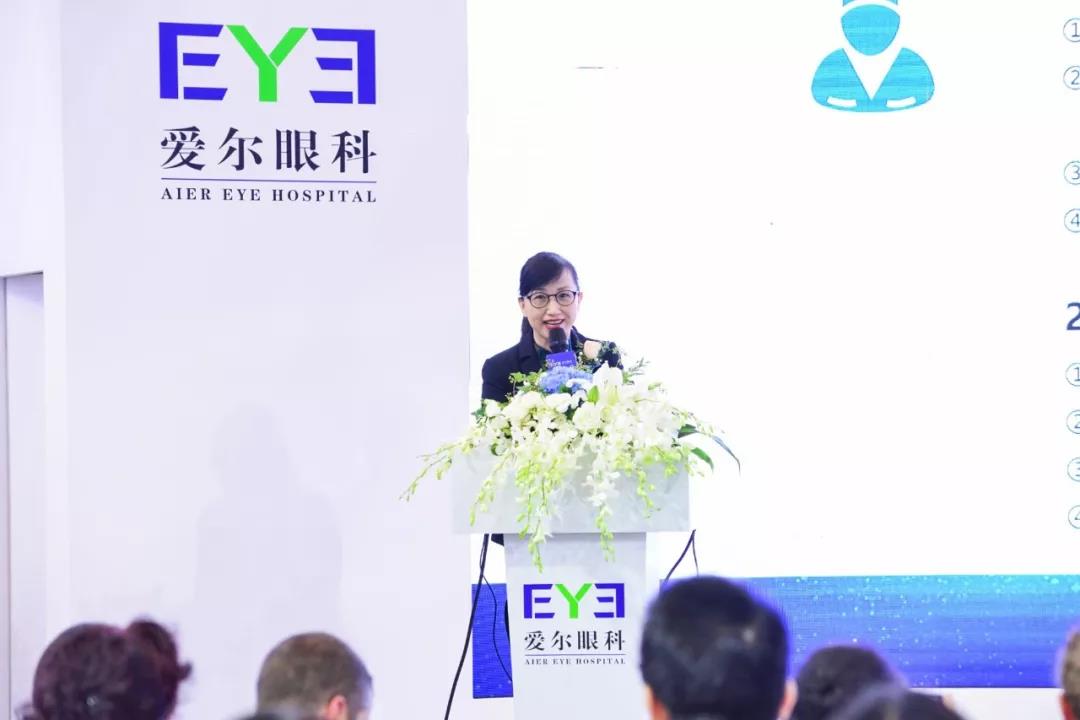 Mrs.Wang Lihua, explains the Global Introduction Plan for Talents in detail
At present, AIER Eye Hospital Group has created a highland for ophthalmic talent training, including 2 Schools, 7 Institutes, 1 Station and 1 Center.
2 Schools: AIER school of Ophthalmology · CSU, AIER Eye School of Optometry· Hubei Institute of Science and Technology
7 Institutes: AIER Eye Institute, AIER Institute of Optometry & Visual Science, AIER Institute for Corneal Disease, AIER Retina Research Institute, AIER Glaucoma Institute, AIER Dioptric Research Institute, AIER Eye Institute· Wuhan
1 Station: Academician Expert Workstation
1 Center: Cooperative R & D Center of Postdoctoral Program
Prof. Su Guohui, an academician of the Chinese Academy of Sciences, said: "AIER not only has an international scientific research and academic platform, but also a global and professional research and incubation team, which can save scientists from worries and concentrate on scientific research. This is very rare!" In addition to providing "Partnership Program" and corresponding equity incentives, AIER will provide research funds and assistance for building a research team to applicants of "Ophthalmology Masters" "LeadingTalents" and "Ophthalmology Doctors".

Mrs. Wang Lihua said: "In the next ten years, AIER will open 1,000 eye hospitals that are leaders in the region, which will be inseparable from the cultivation of a large number of young ophthalmic elites, that is, the Ophthalmology Talents Program that we launched here. The Ophthalmology Talents Program includes Photon Program (Clinical &management talents), Bocai Program (Clinical & scientific research talents), AIER Talents Plan (Optometry &management talents) and so on. Earlier, AIER has gradually launched these plans, and introduced nearly 200 high-end ophthalmologists to the industry, trained nearly 400 internal surgeons, and trained nearly 600 young and middle-aged doctors. In addition, Escort Plan is committed to cultivating and introducing excellent medical technology and nursing talents; Pilot Plan and Elite Plan are dedicated to cultivating and introducing excellent hospital operation & management talents as well as young management talents."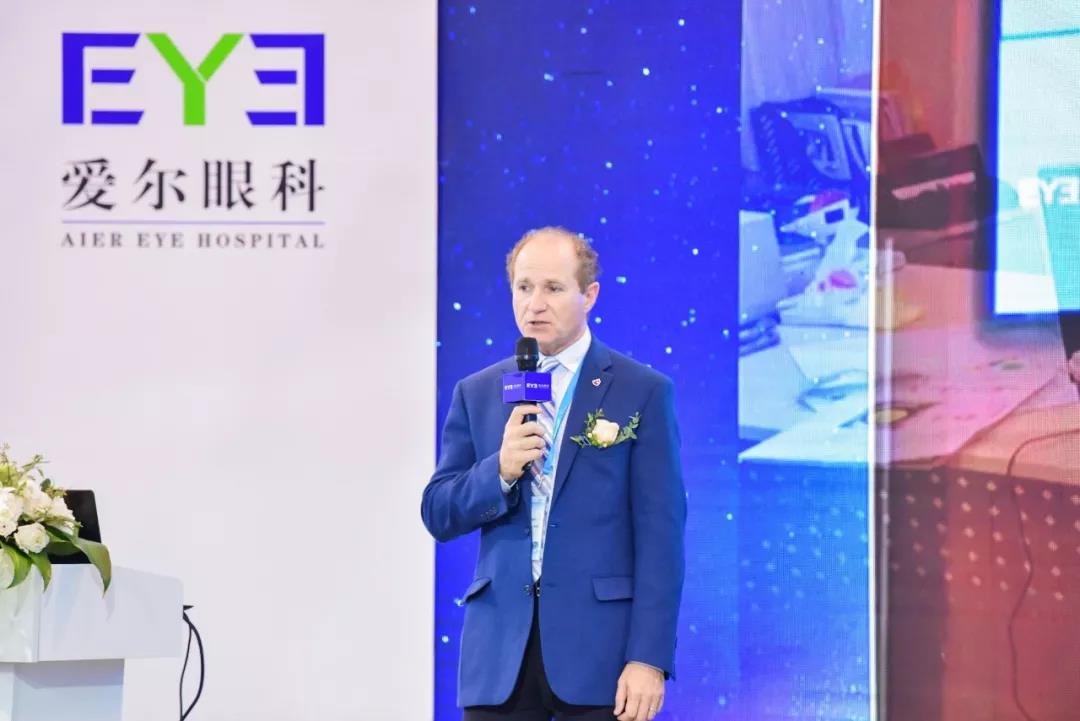 Dr. Ronald KRUEGER shared his deep friendship with AIER and called for more outstanding ophthalmologists to join AIER
Mrs. Wang Lihua emphasized: "In the next ten years, in addition to gradually introducing and cultivating a group of industry-leading talents, we will also launch the Global Introduction Plan for Talents to create an international talent platform."
It is reported that the Global Introduction Plan for Talents includes 5 major sections: "Flexible Talents Introduction", "Building Key Disciplines and Laboratories", "Establishing Eye Science Think Tanks", "Starting Borderless Cooperation" and "Starting School-Enterprise Cooperation".
First of all, AIER introduces industry-leading ophthalmologists through various flexible forms, such as part-time, multi-point practice, and visiting professors. In the future, AIER is committed to cultivating a large number of advanced ophthalmologists nationwide and regionally. Previously, AIER also introduced a number of domestic and international ophthalmology masters as visiting professors to share the wisdom of global ophthalmology, such as Academician Yang Xiongli of the CAS, Academician Su Guohui of the CAS, Professor Pablo Artal of the University of Murcia, Spain, and Professor Neil M. Bressler (USA) of Johns Hopkins Hospital, Welma Eye Institute. Secondly, in the next decade, AIER plans to establish a multi-integrated joint research and development system and establish global key disciplines and laboratories.
In fact, AIER has accumulated a lot in leading and participating in large-scale scientific research projects at home and abroad. In May 2018, the Global Myopia Research Project led by AIER school of Ophthalmology · CSU was officially launched. The project selected more than 20 high-level scientific research teams to participate in the world range, which is expected to explore the pathogenesis of human myopia in the future. In 2017, to find a more scientific gene therapy program for the "century problem" of degenerative retinal diseases, AIER Eye Institute, the First Affiliated Hospital of the Chinese Academy of Sciences, and the First Hospital Affiliated to AMU jointly established the Joint Laboratory for Visual Disorders and Rehabilitation Research, focusing on the pathogenesis of retinal degenerative diseases. In the future, AIER will continue to carry out joint research and development projects with international scientific research institutions to truly open up international cooperation resources and channels.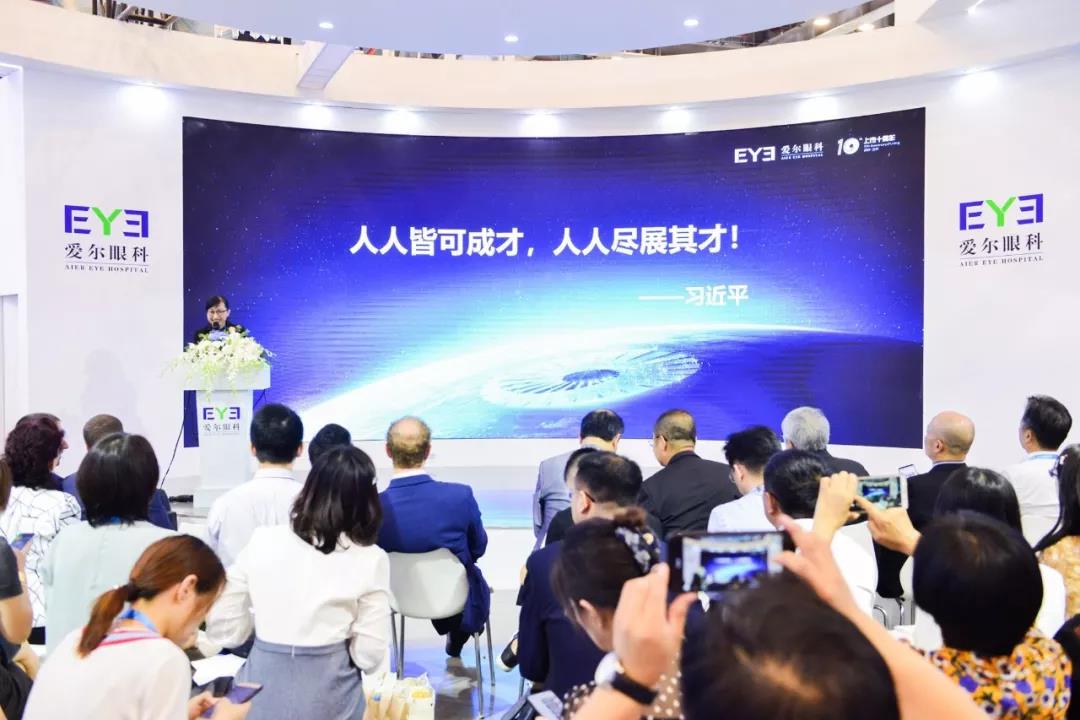 The release meeting is very popular and overcrowded
At the same time, AIER is also committed to the establishment of eye think tanks. In recent years, AIER has continuously brought in advanced ophthalmology diagnosis and treatment technology and management experience from Europe, America and Southeast Asia through large-scale international acquisition. Relying on the global network layout of AIER and further integration of advanced ophthalmic technology, it is expected to form a large database of human eye diseases and large sample cases in different countries, regions and ethnic groups in the future, contributing to China's effort to provide more global diagnosis and treatment of difficult eye diseases. Thirdly, AIER is also actively exploring deep cooperation with technology giants, top universities and well-known scientific research institutions, optimizing the data workflow and increasing the degree of data through artificial intelligence, big data, and cloud computing to promote the intelligent development of ophthalmology.

In 2017, AIER teamed up with Intel, the global technology giant, to create AI Eye Disease Identify Solutions to help improve the eye care experience of primary hospitals, which is expected to change the traditional eye care model in the future. In 2019, AIER also cooperated with Huawei, a global information and communication solution provider. Huawei will provide AIER with leading solutions in consulting planning, smart hospitals, 5G, IoMT, data centers, and public clouds.

AIER's talents plans are highly regarded by the participants

"After that, our goal is to build an internationally renowned ophthalmology university." Professor Tang Shibo, Dean of AIER School of Ophthalmology·CSU and General Dean of AIER Eye Hospital Group. In 2013, AIER School of Ophthalmology·CSU was found, which created a precedent for the cultivation of Chinese ophthalmology professionals. As of July 2019, 180 graduate students and 60 doctoral students have been enrolled, including 99 graduate students and 13 doctoral students.
On the basis of joint school with the well-known domestic universities of CSU, in the future, AIER will also cooperate with world-renowned institutions through various dimensions (such as the establishment of joint colleges, independent colleges, management colleges, and continuing education colleges) to jointly cultivate ophthalmology elites; AIER will build a global integrated academic research platform based on building Ophthalmology Research Institute, Joint R&D Center, Big Data Research and Analysis Center, Artificial Intelligence Research Center, Clinical Medical Transformation Platform, Industrial Incubation Park, and Intellectual Property Service Center.

Mr. Chen Bang said: "The journey of the new decade is about to open, which requires us to work harder and make a new smart strategy. AIER's plan is aimed at introducing and cultivating multi-dimensional, multi-level ophthalmic talents. And the establishment of the AIER University system to continuously deepen the international clinical, technology, and education integration platform we have built. We hope to contribute this platform to the Chinese ophthalmology industry in the future, and share the technological innovation and development results with the industry so as to enhance the core competitiveness of China's ophthalmology technology and help China's ophthalmology to be at the forefront of the international arena!"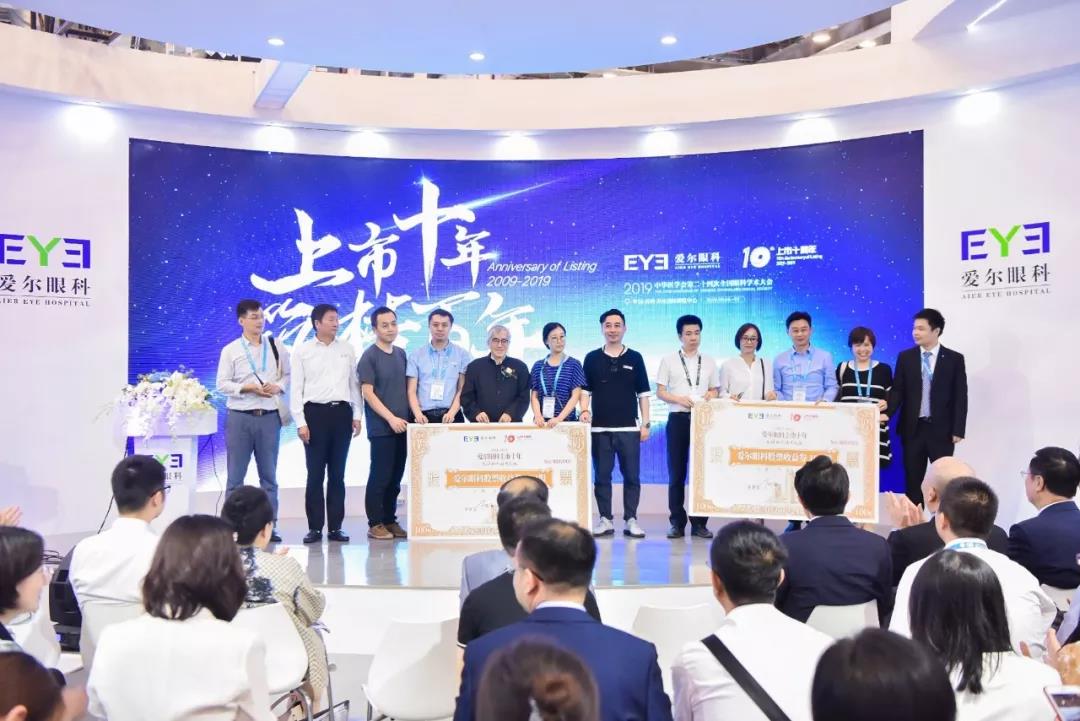 Ten lucky winners are awarded the AIER Stock Voucher Award of over 33,000 yuan by the Academician Su Guohui in the release meeting. (closing price on September 5 )