Recently, the world-famous magazine Financial Times published the list of "Companies who brave a dangerous situation -- Top 100 Global Companies in 2020", and AIER Eye Hospital Group ranked the 32nd, which is also the highest ranked health care institution in the list. The list includes 36 companies from China and 30 companies from the United States.
AIER, the operator of China's largest network of private ophthalmic clinics, has tapped into the country's growing demand for eye surgery due to an ageing population and a government campaign to reduce short-sightedness in schoolchildren. Theses trends have brought AIER group from its more than 600 hospitals, steady revenue growth and stable profit margins since 2015. The Financial Times reported.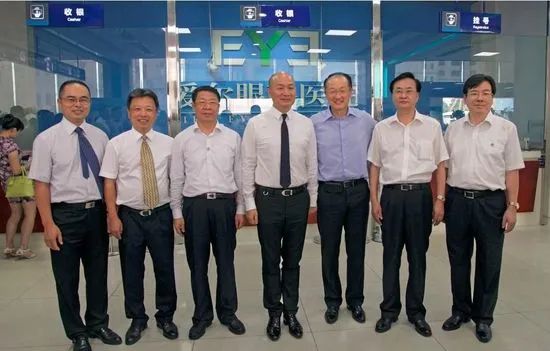 Leadership group photo
On July 9, 2014, Mr. Yong Jin , then President of the World Bank, visited AIER. On October 17, 2014, Mr.Yong Jin wrote in the Financial Times that AIER Eye Hospital Group has successfully established the "hierarchical chain" management model that adapts to China's market environment. Utilizing its advantages in talent, technology and management, provides treatment for common eye diseases to more than 2 million people every year, It is worthy of reference for developing countries .
Looking at China, there are not many excellent enterprises running the business in the name of "love", In 2020, AIER with everyone met a once-in-a-century COVID-19 outbreak by chance. Despite the severe impact of the epidemic at the beginning of the year, AIER still achieved a V-shaped reversal in the second quarter, and the number of outpatient visits increased rapidly. Social benefits drive economic benefits. The operating revenue in the third quarter exceeded 4.4 billion yuan, up nearly 50% year on year. Besides, the net profit of a single quarter is more than 1 billion yuan, a year-on-year increase of 85% greatly.
AIER has donated 53 million yuan to fight the epidemic in China, a total of nearly 570,000 masks, 11,000 sets of protective clothing, 12,000 sets of safety goggles, 10,000 sets of surgical gloves and 10,000 copies of nucleic acid testing reagents have been donated overseas. In addition, with its global network, AIER organized total nine video seminars with more than 40 eye hospitals in many countries shared the valuable experience in epidemic prevention. Besides, "Eye Hospital Epidemic Prevention Guidelines" in English version from AIER was released just on time to share love all around the world.
AIER are responsible to transmit the confidence in a time of crisis, plant the seeds of hope in a place of despair and spread the light in a place of darkness. As part of the majestic 'symphony' of the great renewal of the Chinese nation, the 'Love march' is playing by AIER now!