"Take it easy, don't be afraid, it won't hurt..." In the operating room on the 12th floor of Shenzhen AIER Affiliated Eye Hospital of Jinan University, Professor Bo Qin, the General President of AIER in Shenzhen Special Economic Zone and head of the fundus diseases and external injuries, patted CHONG and said to him gently. With a simple message from Prof. Bo Qin, seems like Chong had a tranquilizer to loosen up these fears.
Fundus hemorrhage almost led to blindness,
AIER helped out CHONG to see again
CHONG, who is lying on the operating table, is a 73-year-old Royal Datuk from Negeri Sembilan, Malaysia. He originally lived in Hong Kong with his Chinese wife for a long time, but he has been staying in Shenzhen due to COVID - 19, which interrupted his regular fundus examinations for more than 40 years. Unexpectedly, this interruption almost made him lose his sight.
"Suddenly, my right eye vision began to decline, my vision was blurred, and walking became difficult." Facing the sudden decrease in vision, CHONG's heart jolted and he hurried to visit hospital nearby accompanied by his wife.
After a detailed examination, CHONG was diagnosed with unexplained bleeding in his fundus, and doctors recommended a phaco surgery, which normally takes about 3-4 hours with unsure postoperative result. "I was so upset that the vision in my right eye could not be saved!" CHONG went to several hospitals to seek treatment but all failed him. It was not until he came to Shenzhen AIER Affiliated Eye Hospital of Jinan University that he finally filled with bright hopes.

Dr. Hongxia Liao from the Retina & Vitreous clinic performed a detailed eye examination for CHONG. He was finally diagnosed with vitreous hemorrhage in the right eye and senile cataract.
"According to the results of my examination, Dr.Hongxia Liao explained to me in great detail, analyzed the condition, worked out solutions, and estimated the postoperative effects. Sincerely, I couldn't help but want to trust her." Because of this sincerity and trust, CHONG's concerns were relieved. Most of all when he heard that Prof. Bo Qin would customize the surgical plan and perform the operation for him, he finally made up his mind to "hand over my eyes to AIER". "I specifically learned that Prof. Bo Qin is a very professional and experienced eye doctor. To him, solve my eye problem it is a daily routine." Immediately, CHONG decided to stay at AIER and made an appointment for the operation.
On June 22, that was the day CHONG had his surgery. He was obviously nervous, who had never undergone surgery. "Before the operation started, Prof. Bo Qin gently patted my arm just like an old friend, encouraging me not to be afraid." he said. In that moment, Says Mr. CHONG, his heart suddenly settled.
"We have removed the cataract and implanted a new intraocular lens, the next step is to perform Phaco surgery for you." During the operation, Prof. Bo Qin interacted and communicated with CHONG throughout the whole process to dispel his nervousness and worries. He had pulled off a operation for CHONG in about 40 minutes and helped him to see again!
"I didn't expect the operation to be completed so quickly. It seemed that I was just chatting for a while, and the procedure was done without any discomfort!" "CHONG exclaimed, by giving Prof. Bo Qin and the Retina & Vitreous team a big thumbs-up.
Recovery after operation, thanks to AIER!
On June 23, CHONG, who is about to be discharged from AIER, specially sent a message of thanks to the Retina & Vitreous clinic team via wechat.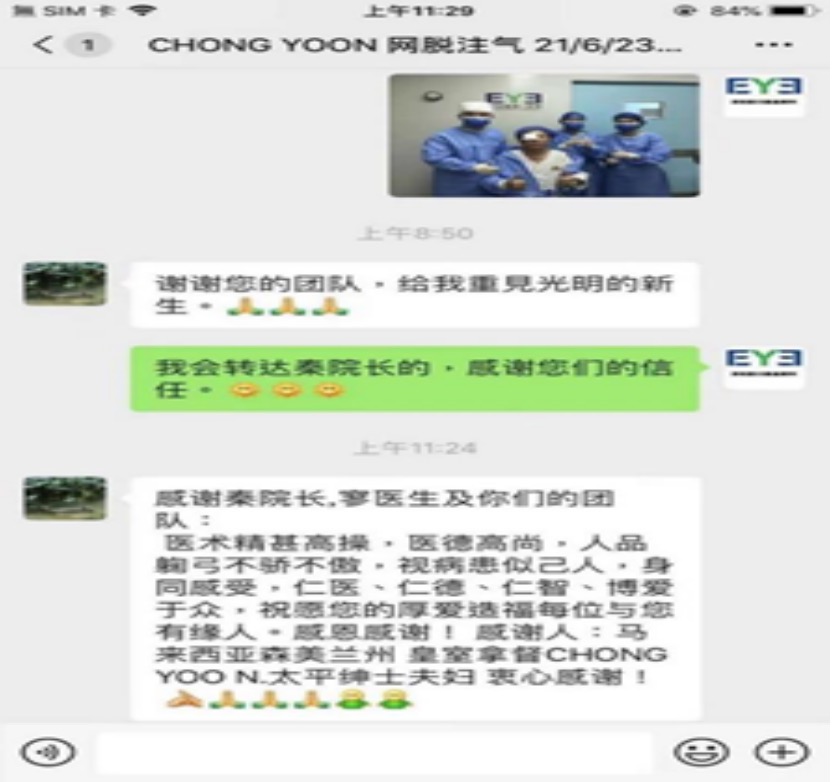 "Excellent techniques, dedicated, humble, empathize, healing hands, kindheartedness, wisdom, humanitarianism" All these words reflect CHONG's recognition, praise and gratitude to Prof. Bo Qin and the team!
On June 30, a week after the surgery, CHONG was delighted to find that his right eye was almost as good as before the onset of the disease.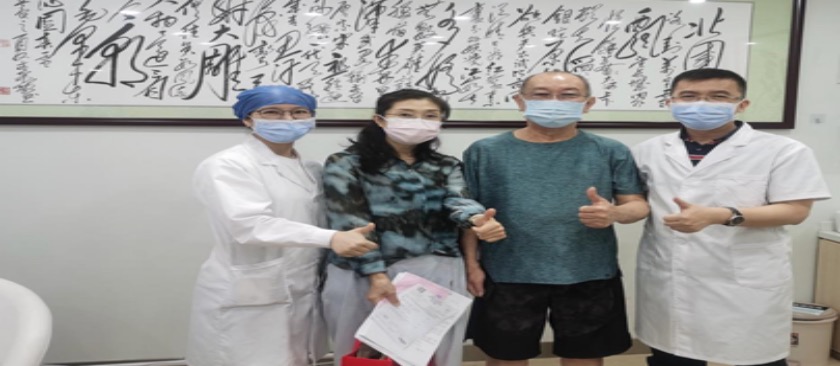 "Prof. Bo Qin is not only exquisite in medical skills but the team he cultivates is also very strong with warm heart." CHONG said, "Such a good doctor and team should be known to the world, only in this way more people with eye diseases like me can see again, it is all about the faith in bright."