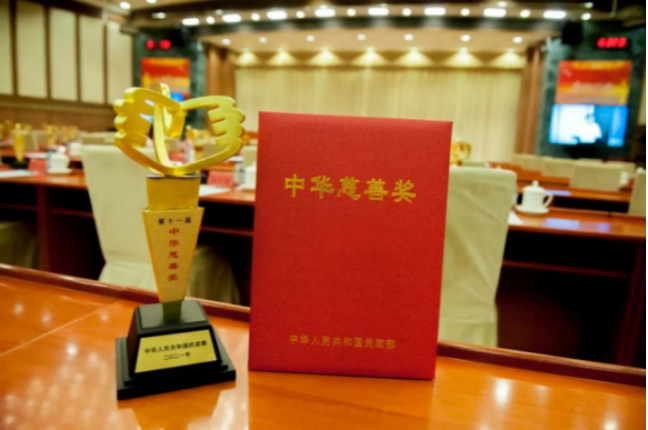 On September 5, the 11th "China Charity Awards" (video conference) was held in Beijing
September 5th marks the 6th "Charity Day of China". The 11th "China Charity Awards" selection and commendation conference (video conference) was held. The conference solemnly commended units, individuals and charitable projects in the field of philanthropy that have contributed to poverty alleviation and the fight against COVID-19. AIER Eye Hospital Group (referred to as AIER) won the 11th "China Charity Awards" donation enterprise, this is the second time for AIER to win the award after the 10th China Charity Awards in 2018. Its positive response to the call of the state, earnestly fulfill the social responsibility of the public welfare and charity actions and contributions have been well recognized by the state.
Government honorary awards in the field of philanthropy
This year's selection required strict censorship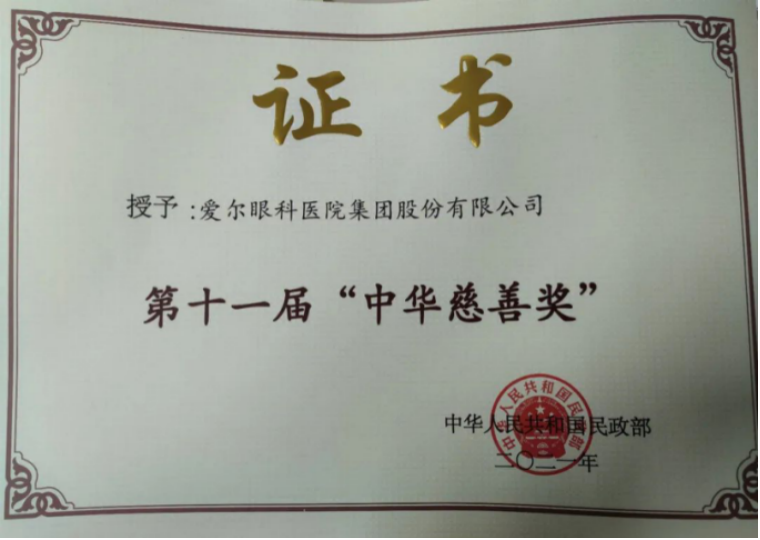 AIER won the "China Charity Awards"

The China Charity Awards is an honorary award issued by the Chinese government in the field of philanthropy. It was established in 2005 to recognize individuals, organizations, charitable projects and charitable trusts who have made outstanding achievements and have a wide impact in China's charitable activities.
The Ministry of Civil Affairs is responsible for it and the award is selected and commended once every two years including charity models, charity projects (charitable trusts), donating companies, and donating individuals.
According to the "Annual Report on China's Philanthropy Development (2020)", from the data in recent years, corporate donations have always been a major source of charitable donations in recent years. A total of 182 caring individuals, caring teams, donating companies, charitable projects and charitable trusts were honored.
In order to ensure the fairness, impartiality and openness of the selection, the Ministry of Civil Affairs has established the 11th "China Charity Awards" Evaluation Committee, which is composed of representatives from Civil Affairs Departments, Relevant Party and Government Departments, Mass Organizations, Charity Industry Organizations, News Media, Education And Scientific Research Institutions, Members Of The National Committee of the Chinese People's Political Consultative Conference, Experts and Scholars.
Bo Li, the first-level inspector of the Ministry of Civil Affairs, said that compared with the previous ten years, this commendation would focus more on poverty alleviation. This commendation does not accept self-recommendations from units and individuals, it must be recommended by the Civil Affairs Department of Provincial People's Government、Central and state agencies、Public Institutions、Ministry-level Units such as the Central Group Organization and the Political Work Department of China's Central Military Commission.
In addition, Bo Li also introduced the current specifications have tightened up in some areas and have been implemented as such. The scope of soliciting opinions from Provincial Civil Affairs Departments and other recommending units before recommending was clarified for the first time according to the categories and situations of the recommended objects. In terms of review, the "China Charity Awards" will not be awarded to serious violations of discipline, false voting, and serious dishonesty.
Helped nearly 700,000 poor patients see the light again
AIER won the award for two consecutive years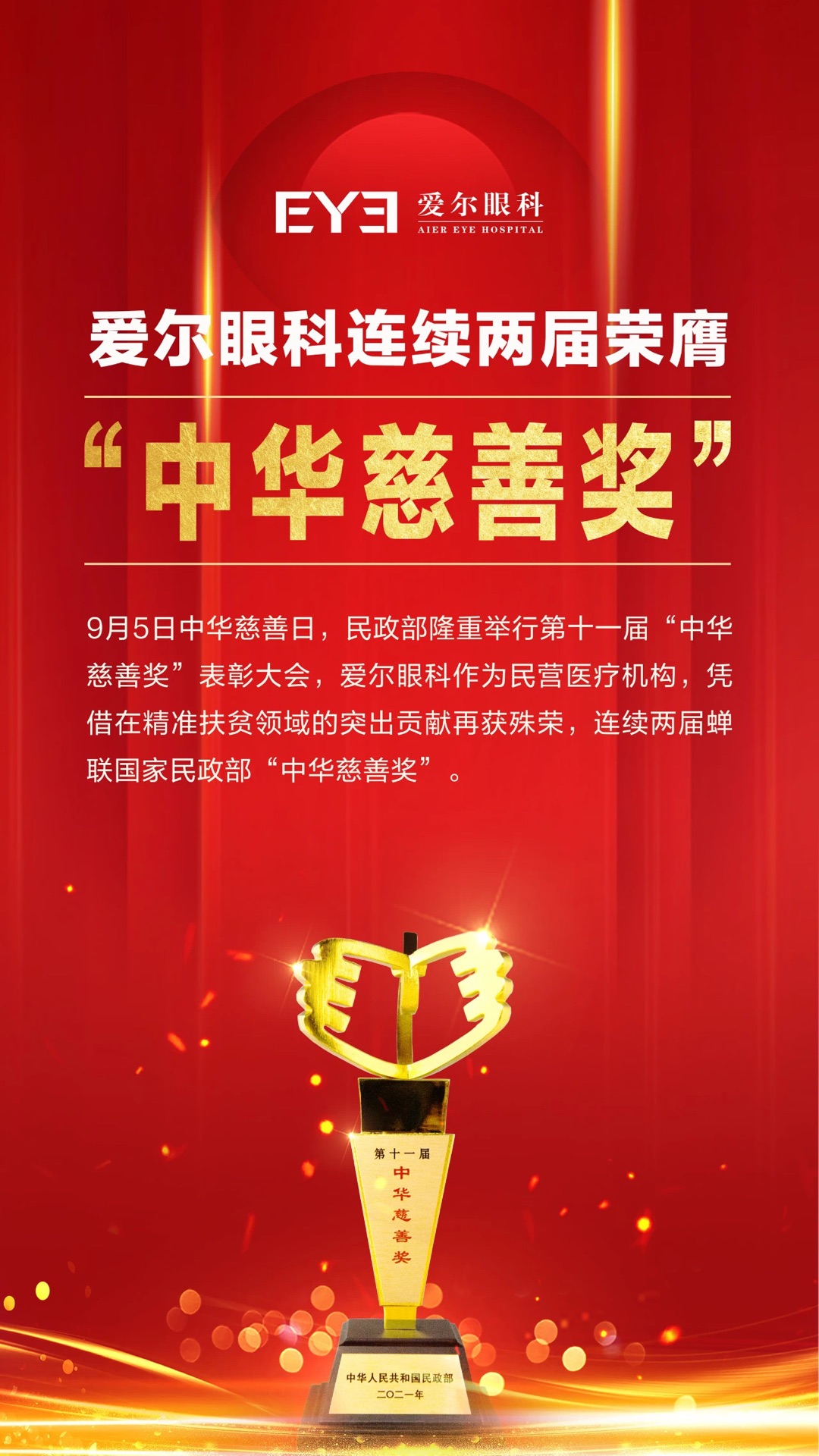 In response to the party and state poverty alleviation policy, AIER focuses on the problem of poverty caused by disease and slip back into poverty due to illness, as well as focuses on patients with difficult eye diseases, in particular provide precise assistance to deeply impoverished areas and objects such as national poverty-stricken counties, "Three Autonomous Region and Three Autonomous Prefecture", poor households. It had held a series of charity programs for poverty alleviation such as "Brightness Action with Love" ""You are My Eyes - Corneal Transplantation in China" "'Health Vision, Have A Panoramic View' - Fundus Disease Public Welfare Assistance " "Ensuring Child A Bright Future" "Adolescent Eye Health Care" , helping the poor and special eye disease patients to see the light again. AIER proactively participates in public welfare by taking actions for poverty alleviation, blindness prevention and community care, with the vigorous development of the charity activity for eye diseases treatment, AIER also flies its flag of charity along the "One Belt, One Road" routes. The medical team of AIER went to Myanmar, Laos, Cambodia and other countries as well as 31 provinces, autonomous regions and municipality directly under the central government in China.
Up to now, AIER has helped nearly 700,000 impoverished eye disease patients to see the world again, China's CSR contribution rate is 11% with 180 million people benefit from the eye health clinics and eye education seminar. As COVID-19 spread globally in 2020, AIER sent more than 2400 medical practitioners to the front line, including 230 to the most challenged hospitals such as mobile cabin hospitals in Wuhan. In addition, AIER donated tens of millions of yuan to areas in the greatest need of support. In 2020, 0.31 billion yuan were donated in total.
AIER's public welfare activities have effectively promoted the prevention and treatment of blindness in China, helped the government to achieve the public health goal of "Universal Eye Health", improved people's health and well-being, so as to made important contributions to the realization of the United Nations Sustainable Development Goals. AIER has won the "10th China Charity Awards", "China Charity Enterprise", "Hunan Charity Awards" and other honors. Mr. Bang Chen, chairman of AIER, has been honored as "Excellent Builder of Socialism with Chinese Characteristics" in May 2021.
Continue to assist primary ophthalmic care AIER contribute to carry out the Healthy China initiative
"Gathering Charity Forces and Helping Rural Revitalization" is the main theme of this year's "Charity Day Of China".
In National Eyes Day "Bright Project · Cataract Rejuvenation" project symposium, AIER donated 100 million yuan to help rural revitalization. On the evening of September 3, AIER announced that it will donate another 100 million yuan, which will be used to carry out eye health screening, eye health education, and establish eye health medical records in schools, as well as in grassroots communities and rural areas.
In National Eyes Day "Bright Project · Cataract Rejuvenation" project symposium, AIER donated an additional 100 million yuan to help rural revitalization
AIER has dual advantages in terms of scale and mechanism in the construction of primary eye care services: the hospital network serving the whole country and the medical volunteer team can deliver professional eye health care services to urban and rural areas in China, it can effectively improve the accessibility of medical services for sure. With its "cross-subsidy" model, AIER provides patients with higher quality services, in the meantime dedicate itself to the social welfare and helping vulnerable groups to promote the cause of fighting blindness and national eye health.
"AIER is a young tree that thrives on wind and rain. We deeply understand that we cannot thrive if we fail to develop deep roots and we cannot achieve sustainable development if we fail to pay back to society. We stay true to our original aspiration: 'ensuring equitable access to eye health for everyone, no matter rich or poor.'" Mr. Bang Chen, chairman of AIER said, "It is the first year of 'The Fourteenth Five-Year Plan', based on the new stage and new form, AIER will adhere to the new concept of rural revitalization, help more rural low-income people get eye treatment, benefit the society with efforts. All in all, to carrying out the Healthy China initiative, making steady progress towards common prosperity!"