On September 23rd, AIER Eye Hospital Group (referred to as AIER) signed a strategic cooperation agreement with Sichuan University (referred to as SCU). The two sides will form a strategic partnership and carry out all-around in-depth cooperation in clinical care, postgraduate training, academic research development, physician multi-site practice, hospital standardized training and construction, as well as jointly promote the leap-forward development of ophthalmology construction.
During the 125th anniversary celebration, the President of SCU, Mr. Yanrong Li said in his speech that SCU looks forward to taking this cooperation as an opportunity to achieve the effective connection between medical institutions and high-quality education resources, the eye health of the general public must be guarded.
SCU is one of China's top universities, attached to the Ministry of Education. It is a high-level research-oriented comprehensive university located in the western part of China, with strong scientific research ability and several national-level research centers, laboratories and research bases. SCU is also an important center of medical education, research and medical services in China. School-enterprise cooperation will promote the further development of both sides and promote the development of ophthalmology in China for sure.
Mr.Yanrong Li, President of SCU had a friendly communication with Mr. Bang Chen, Chairman of AIER

Mr. YanRong Li said that SCU is one of the universities that has a comprehensive range of disciplines with the longest history, SCU is vigorously promoting the construction of "First-class universities and disciplines of the world". West China Hospital,SCU has become a comprehensive medical teaching and research center with abundant faculty resources, advanced medical techniques, and strong potential in medical research. The Hospital was ranked one of the highest among all hospitals in China by the Ministry of Health over the years. Looking ahead, both sides will take this cooperation as an opportunity to give full play to their respective advantages, focus on ophthalmology talent training and cutting-edge ophthalmology research, further deepen university-industry cooperation. All in all, the two sides should be devoted to maintaining the health of the people in the future.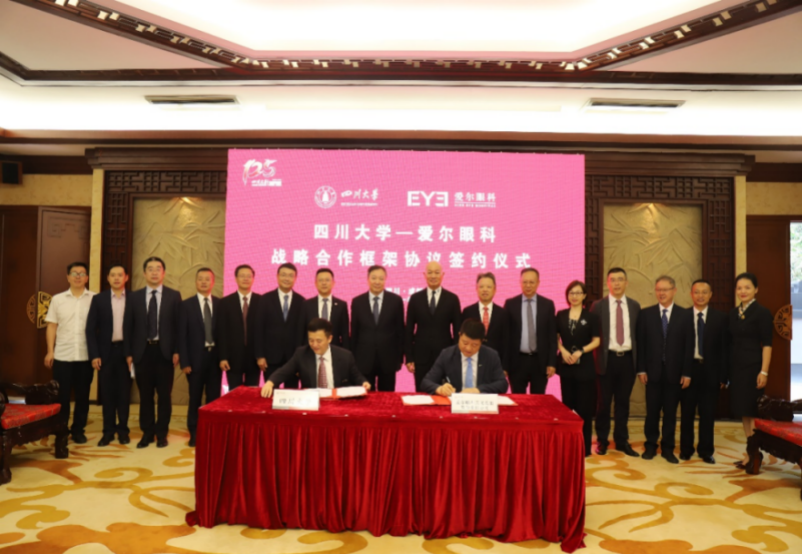 Mr. Lin Zhang, Vice President of SCU, and Mr.Li Li, President of AIER signed the cooperation agreement on behalf of both sides
Yanrong li, Academician of SCU, Lin Zhang, Vice President of SCU with relevant department leaders. Bang Chen, Chairman of AIER, Li Li, President of AIER, Yuewen Zhang, Party Secretary of AIER and President of AIER Medical Group, Zhikuan Yang, Vice President of AIER and President of AIER Institute of Optometry & Visual Science, Lihua Wang, Vice President of AIER and Director of Human Resource Management Center attended the signing ceremony.
Mr.Bang Chen, Chairman of AIER, said in his speech that Sichuan Eye Hospital, one of the eight regional medical eye centers planned by AIER, through cooperation among the powerful friends in the eye industry, is a wonderful example of "famous school + famous enterprise".
"The health status of the population is related to the national economy and the people's well-being." Mr.Bang Chen said to promoting the development of eye health is an important part of the "Healthy China initiative", solving the problem of vision health is related to the specific problem involving the people's immediate interests, the people's sense of fulfillment, happiness and security of hundreds of millions of people.
To stay true to AIER's original aspiration: "Enabling everyone, whether rich or poor, has the right to eye health", AIER brings forward the three big ideas, Mr. Bang Chen said: "First, in terms of accessibility, we aim to include the vast urban and rural counties in China in our network and carry out community-level ophthalmology talent training to gradually improve the level of ophthalmology medical care in primary medical institutions, people can enjoy a high level of eye care services at their doorstep. Second, by building a world-class ophthalmology center, 8 national and regional ophthalmology centers, China's ophthalmic medical technology level will be improved. Third, through global layout and technological innovation to share AIER's experience and knowledge in regards to human ophthalmology and vision science to the world."
For AIER, this cooperation is an important opportunity to realize the "scientific and technological innovation, 100-Year AIER" strategy, It is also a key measure to fulfill enterprise social responsibility. In the future, both parties will make use of its unique system advantages of medical education and research integration with school-enterprise cooperation, put into effect to develop ophthalmology talent training, academic exchange, education and training system construction, as well as promote the integration of medical, teaching, research and production development.
In the next 10 years, AIER will promote talent training and scientific research innovation as the basic and strategic project.

The leaders of the two sides took a group photo
For this cooperation, Mr.YingChuan Fan, Vice President of AIER in Sichuan Province expects that "There will be more breakthroughs in the construction of talent team and discipline construction".
Mr.Yingchuan Fan also said that a good doctor should not only master professional knowledge and clinical skills but also be people-oriented, provide patient-centered service.